Students who choose to study at Maltalingua School of English in 2021 from the 1st of June for 15 nights or more, will receive a €10 voucher per night, up to a total of 30 nights.
All eligible students can spend their vouchers immediately in all participating restaurants and shops around Malta and Gozo. The vouchers will be issued to all from the 1st June 2021, coinciding with our re-opening date, ensuring students will have access to their vouchers from their first day here.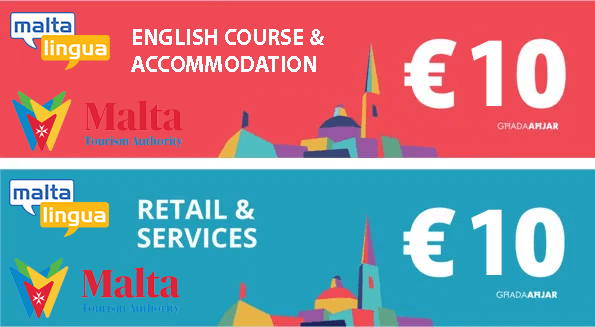 How Does the Voucher Scheme Work?
The scheme has a €1million budget that will be allocated on a first-come, first-served basis. MTA will advise schools via email when the scheme is oversubscribed. 
Vouchers are available for students staying in Malta for a minimum of 15 nights ONLY - max 30 nights. Students will receive a €10 voucher per night. e.g. Fifteen nights --> Fifteen €10 vouchers = €150.
Anyone 13+ is eligible for the vouchers.
The vouchers are only available for students arriving in Malta from the 1st of June onwards. 
The vouchers are only available for students who booked from the 7th of May onwards.  A student who arrives on the 1st of June, but booked before May 7th will not be eligible for the scheme.
The course can be booked for 1 week only, as long as you stay in Malta is for 15 nights or more. 
Where can the vouchers be used?
The vouchers CAN BE REDEEMED DIRECTLY AT MALTALINGUA e.g upgrade your course, extra private lessons, activities, lunches, coursebooks, accommodation, etc.
The vouchers can be used for goods and services – a list of providers will be made available upon the student's arrival.

Maltalingua is proud to be celebrating its 10 year anniversary this year and is already offering some fantastic discounts, deals, and packages throughout 2021 as well as now also being able to provide our students up to €300 in vouchers to enhance their stay in Malta even more. Discover our 2021 packages of 15 nights or more that ensure you will eligible for your vouchers.
Want to know more? Get in touch today.

Information updated and valid from: 14th May 2021