ACCREDITATION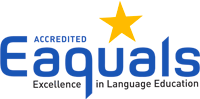 EAQUALS - (Evaluation & Accreditation of Quality in Language Services)
Maltalingua is a fully accredited member of EAQUALS, the prestigious award for Excellence in Language Education.
EAQUALS is an international accreditation which is an important recognition for the quality of the school.
The school was assessed over twelve different categories which measure standards of the school and its services, our English language programme, the employment conditions of staff, the wellbeing of the students, and the information provided.
Maltalingua has been awarded points of excellence in 11 of the 12 categories.
The inspectors identified points of excellence in the following categories:
Management and Administration
Teaching and Learning
Course Design and Supporting Systems
Assessment and Certification
Learning Environment
Client Services
Quality Assurance
Staff Profile and Development
Staff Employment Terms
Internal Communications
External Communications
EAQUALS schools are recognized by CSN (Sweden), in Italy for the Progetto Lingue 2000 which provides credit to higher education and in Switzerland for in-company language teaching.

We are accredited and inspected annually by the ELT Council. The board maintains quality assurance systems in all aspects of English Language stays and provides periodic rigorous audits to assure compliance with established quality standards.
Ministry of Education
Our school is also accredited by the Ministry of Education - license code 275/MB36