Best Language School in Malta 2018
Maltalingua is very proud to have been selected in 2018 as the best language school in Malta. 

This prestigious award is decided by reviewing thousands of online reviews across multiple platforms. 

Maltalingua topped the survey with 4.7 out of 5 stars and an outstanding quality score of 98.83%. 

We are delighted to have received such incredible feedback from all of our students and will continue to improve and maintain our standards and services. Thank you to everyone who leaves a review online and we hope to see you all back at Maltalingua again sometime soon! 
ACCREDITATION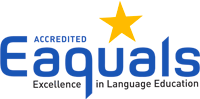 EAQUALS - (Evaluation & Accreditation of Quality in Language Services)
Maltalingua is a fully accredited member of EAQUALS, the prestigious award for Excellence in Language Education.
EAQUALS is an international accreditation which is an important recognition for the quality of the school.
The school was assessed over twelve different categories which measure standards of the school and its services, our English language programme, the employment conditions of staff, the wellbeing of the students and the information provided.
Maltalingua has been awarded points of excellence in 11 of the 12 categories.
The inspectors identified points of excellence in the following categories:
Management and Administration
Teaching and Learning
Course Design and Supporting Systems
Assessment and Certification
Learning Environment
Client Services
Quality Assurance
Staff Profile and Development
Staff Employment Terms
Internal Communications
External Communications
EAQUALS schools are recognized by CSN (Sweden), in Italy for the Progetto Lingue 2000 which provides credit to higher education and in Switzerland for in-company language teaching.

We are accredited and inspected annually by the ELT Council. The board maintains quality assurance systems in all aspects of English Language stays and provide periodic rigorous audits to assure compliance with established quality standards.
Ministry of Education
Our school is also accredited by the Ministry of Education - license code 275/MB36
Awards 
Inspiring ELT Professional Award


Maltalingua places a lot of focus on ensuring it has only the most highly qualified, passionate and best teachers. Many of our academic team have been with us for many years. In October of 2019, one member of this team, Jeremy Glass, was selected as the most inspirational ELT professional in Malta. Those within the industry stated that this teacher was 'extremely inspirational and popular' and a 'true legend in the ELT industry', while others commented that 'his experience and dedication should be truly recognised'.
When receiving the reward a humbled Jeremy, acknowledged his colleagues and the team and showed his appreciation while still making everyone laugh.
Being nominated for this award is a significant achievement and winning it even more so. Maltalingua is very proud to have such a dedicated team of teachers and professionals and is delighted that their efforts are being recognised at such a high level.