ACCREDITATION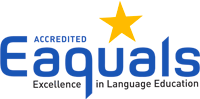 EAQUALS - (Evaluation & Accreditation of Quality in Language Services)
Maltalingua is a fully accredited member of EAQUALS, the prestigious award for Excellence in Language Education.
EAQUALS is an international accreditation which is an important recognition for the quality of the school.
The school was assessed over twelve different categories which measure standards of the school and its services, our English language programme, the employment conditions of staff, the wellbeing of the students, and the information provided.
Maltalingua has been awarded points of excellence in multiple categories.
EAQUALS schools are recognized by CSN (Sweden), in Italy by the Progetto Lingue 2000, which provides credit to higher education, and in Switzerland for in-company language teaching.

We are accredited and inspected annually by the ELT Council. The board maintains quality assurance systems in all aspects of English Language stays and provides periodic rigorous audits to assure compliance with established quality standards.
Ministry of Education
Our school is also accredited by the Ministry of Education - license code 275/MB36

Bildungsurlaub - A type of paid time off given by businesses to their employees for the aim of advancing their education and personal development is known as a "educational leave" or "Bildungsurlaub" in German. In Germany, depending on the federal state where they work, employees are allowed five to ten days of "Bildungsurlaub" per year.

You can utilise this time to enroll in educational courses or programs, such as language lessons, career training, and extracurricular activities. Bildungsurlaub aims to advance professional and lifelong learning, as well as personal development and social integration. The initiative has received much praise for having a good effect on German workers and for helping to create a highly skilled and competitive workforce.