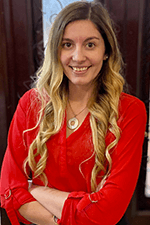 Tania Assuncao
School Principal
Hello, my name is Tania and I am the School Principal here at Maltalingua. I joined Maltalingua in February 2018 and it's been a great experience! The team is incredibly friendly and professional, and the students are lovely.
You can find me at reception during break time to answer any questions about your course and experience here at Maltalingua. I am Portuguese, but I've lived in different countries, namely Portugal, England, Malta, and Mozambique, and I can speak English, Portuguese, and Spanish. I have been working in the Education sector for 15 years and I have experience in both teaching and academic management.
I really enjoy my job and live by the motto 'Find something you love to do and you'll never have to work a day in your life.' I am looking forward to meeting you here at Maltalingua!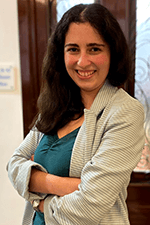 Kirstie Attard
Assistant Director of Studies -  MA in Romantic and Victorian Literary Studies, BA (Hons) English, TEFL
 Hi everyone! My name is Kirstie and I'm the Assistant Director of Studies here at Maltalingua. :) 
I have been working at Maltalingua since 2015 and I love it. Both the staff and students make the school a wonderful place to work and learn. I love meeting new people from different cultures and teaching people of all ages. I aim to make this experience a fun and interesting one for students and am always ready to help and answer any questions that students may have. When I'm teaching, I aim to make my lessons as fun and as interesting as possible and strive to maintain a relaxed environment in which the students can thrive.
English is my passion, and I have a Master's in Romantic and Victorian English Literary Studies to prove it. I love to read and can always be found with a book in hand. I have also self-published two fantasy novels under my pen name 'Penelope Read'. I love music, the theatre, and appreciating the beautiful island that I come from.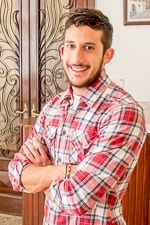 Julian Micallef
Operations Manager
Hi, my name is Julian Micallef and I am the Operations Manager at Maltalingua Language School. My main role at the school is that of the well-being of our students, which means my job is to be there to answer and assist you as well as I can. My responsibilities include running the leisure program for our adult students and managing our student apartments.
I am Maltese and love this little island. Being Maltese gives me the advantage of knowing what to offer our students, whether it is historical sites, day trips to Gozo, or the best parties on the island!
I graduated in Hospitality and Tourism Management and over the past seven years, I have gained invaluable experience working in tourism and various other language schools.
I'm a very active person and am always on the go, which also helps me in my line of work. I love sports and keeping fit. I practice cross-lifting and find that pushing yourself in any sport is not only good for you but also beneficial in maintaining a strong self-discipline attitude towards life.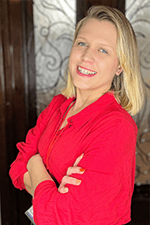 Ania Zachara Yorulmaz
Head Registrar
Hello! My name is Ania and I am the Head Registrar at Maltalingua School of English. I manage, with my team, the registration process for all students who want to study at Maltalingua. I am normally the first person you will speak to if you are interested in studying at our wonderful school and I can't wait to help!
Between myself and my team, we can speak over 10 different languages, are always here to help you, and answer any questions you may have, before, during, or after your time here at Maltalingua!
I am from Poland originally but in 2019 I made Malta my new home. Before then I was working as an au pair in Italy while completing my degree in Communication at the University of Padua.
In my spare time, I like running to keep fit and I love to eat out! Fortunately, Malta has lots of fantastic restaurants to choose from!