Maltalingua Team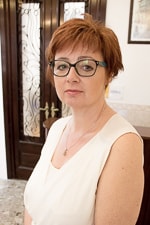 Susanne Whalley
School Principal
Hello, my name is Susanne and I am the School Principal at Maltalingua.
I have been working with Maltalingua since 2015 but can already see that it is different from the other schools across the Island.
Originally from the U.K. and a career in banking, I decided to move to the sun and change my life completely. I moved to Malta in 2001 and started a new career in the EFL industry, where I developed a passion for teaching which still continues to today.
In my free time I enjoy walking, travelling and music.
I look forward to welcoming you to Maltalingua.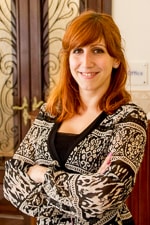 Katrin Risiott
Director of Studies
My name is Katrin, and I am part of Maltalingua's fabulous team.
I am the Director of Studies and have been working at Maltalingua since it opened its doors in April 2012, in fact I can say I was the first teacher here. I have always been fascinated with the English language and there's nothing more satisfying than sharing this beautiful language with students from all over the world.
I took up teaching as a summer job and found out, to my surprise, that this was the career I wanted to pursue. Teaching English became my passion and in 2009 I qualified as a Cambridge ESOL CELTA teacher. In 2015, I successfully completed the Trinity DIP TESOL qualification, which enabled me to expand my horizons and climb up the career ladder, and eventually be promoted to Director of Studies.
I am a very sociable person, love languages (I'm learning Spanish), culture and arts and my hobbies are dancing (mainly salsa and bachata), singing and travelling.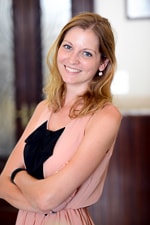 Mina Perschel
Operations Manager
Hello everyone! My name is Mina and I am the Operations Manager at Maltalingua. Four years ago I finished my MA in English and American Studies. Since I graduated I have been living in different countries. During my studies I discovered my passion and love for different cultures, languages and travelling. I lived in Germany, Italy, the US, Great Britain and Australia and now I am enjoying my life in Malta. I'm US born but my parents are German so I grew up bilingual.
I will always have an open ear for you and assist and help you with any question or problem you might have. Don't ever hesitate to come and speak to me. You will usually get to know me on your first day already as I do the Welcome Presentation for our new students.
My hobbies are swimming, yoga, going for walks and discovering new places, reading, dancing, painting and meeting friends.
I am looking forward to welcoming you at our school very soon!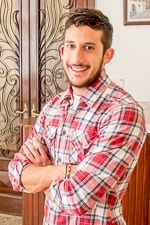 Julian Micallef
Student Welfare Officer
Hi, my name is Julian Micallef and I am the Student Welfare Officer at Maltalingua Language School. My main role at the school is that of the wellbeing of our students, which means my job is to be there to answer and assist you as well as I can. My responsibilities include running the leisure programme for our adult students and managing of our student apartments.
I am Maltese and love this little island. Being Maltese gives me the advantage of knowing what to offer our students, whether it is historical sites, day trips to Gozo or the best parties on the island!
I graduated in Hospitality and Tourism Management and over the past seven years, I have gained invaluable experience working in tourism and various other language schools.
I'm a very active person and am always on the go, which also helps me in my line of work. I love sports and keeping fit. I practise cross lifting and find that pushing yourself in any sport is not only good for you but beneficial in maintaining a strong self-discipline attitude towards life.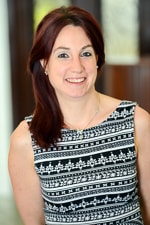 Evelyn Kostner
Head Registrar
Hello everyone my name is Evelyn and I've been working as a student registrar for Maltalingua for more than 2 years now. I am from the northern part of Italy, close to the Austrian border. I grew up in a bilingual environment, which has been a big advantage for my career. I've worked and lived in in Italy, Dublin and now in Malta.
I've been working in tourism for almost 15 years, mostly in the hotel industry. I still always enjoy taking care of the correspondences and bookings of our students. I like the mix of nationalities and the friendly, family atmosphere of our school very much. I love how Malta has so much to offer: amazing beaches, mild weather and historical sights.
I enjoy swimming, cycling, socialising and I have a special passion for travelling and getting to know different cultures and ways of living. I am looking forward to welcoming you all with a smile :)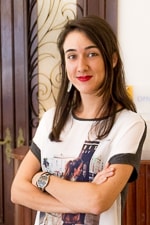 Audrey Predessac
Registrar
Hi everyone my name is Audrey and I've worked as a student registrar for Maltalingua since 2015. I am from the Sarthe region of France, which is famous for the Le Mans car race.
I have a B.A. in Foreign Languages and Civilisations and an M.A. in Communications and PR. I regularly attend lectures and training courses to broaden my perspectives and knowledge on different topics such as marketing, management and HR to name a few.
I particularly enjoy communicating with Spanish and French speakers in order to make them feel comfortable and help them when needed. I spend my free time dancing and organising events on the Island and I particularly enjoy sailing and scuba diving.