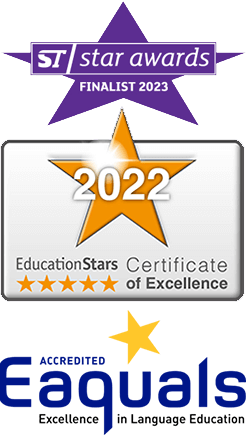 Learn English in Malta in a multiple award-winning, highly accredited EAQUALS English Language School. Maltalingua English Language School is delighted to announce that it has been nominated twice as a finalist for the StudyTravel Star Awards 2023 - English Language School Europe and this year has been nominated in another category, Junior Course for Under 18s. Maltalingua English Language School is the first and only language school in Malta to have been nominated for an award in either of these categories.
In 2022 Maltalingua School of English updated its EAQUALS certification of Excellence in English Language Education. During our previous inspections in 2014, and 2018, our school has achieved multiples points of excellence making Maltalingua one of the highest internationally accredited English language schools worldwide.
In 2018 our English language school was voted by students as the best language school in Malta. In 2019 and 2022, Maltalingua School of English was awarded a certificate of excellence. The Swiss-based Education Stars survey was compiled from thousands of student feedback via social media and online education platforms giving Maltalingua an overall rating of 4.7/5 and a 98.83% quality and satisfaction score.
Naturally, we are very thankful and humbled by such positive feedback - thank you!
We remain a small English language school with a big heart and we hope one day you choose us to improve your level of English.
Visit Maltalingua and embark on one of life's truly unique experiences.