UPDATE: 20th SEPTEMBER 2021
Just over 6 months ago, the team here at Maltalingua thought it would be good to give back, by offering a free 4-week IETLS scholarship. The longest and most valuable scholarship the school has offered since it opened its doors over 10 years ago! The response was incredible. Maltalingua has received over 12,000+ applications from all around the world! 
We are delighted to announce that we have a very lucky winner who has been selected! We would like to congratulate and warmly welcome to Malta and to Maltalingua for a 4-week IELTS scholarship... 
*** Silvia Holmíková ***
A huge well done to Silvia. We look forward to welcoming you to Malta and to Matalingua.
We would like to thank every single person who entered for this scholarship and we are very pleased to announce that we will be launching another opportunity to win a scholarship here at Maltalingua again very soon! Watch this space!
----------------------------------------------------------------------------------------------------------------------------------------------------

Maltalingua School of English is delighted to announce it is offering one lucky person a FREE 4 week IELTS scholarship. This is the longest scholarship Maltalingua has ever offered!
Located in the picturesque Balluta Bay, St Julian's in Malta our internationally accredited EAQUALS English language school has been awarded 11 points of excellence out of 12. Maltalingua was voted the best language school in Malta in 2018 and was acknowledged with a certificate of excellence in 2019 provided by Swiss-based company EducationStars. 

Maltalingua is also a finalist for the ST STAR Award with StudyTravel Star Awards 2020 - English Language School Europe. We are the first independent English language school in Malta to have been nominated for an award in this category.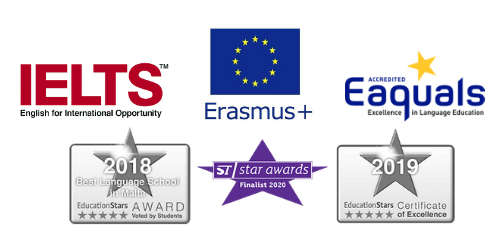 The 4 weeks scholarship will include:
General English Classes
IELTS preparation lessons
All course teaching material, level test & certificate
Accommodation in a shared apartment
Return Airport transfer
2 FREE leisure activities per week with a teacher
Access to full leisure programme
Student discount card for local shops and restaurants
Use of school swimming pool (weather permitting)
Monday welcome party with Maltese delicacies
Free SIM card
Free use of AC in bedroom 
Free use of Netflix, DVDs, and reading books
The value of this package is worth over €2000. 
This is the perfect opportunity to receive a qualification that is recognised and accepted by thousands of institutions around the world, including companies, universities, professional bodies, and government agencies. You will improve your English language skills.
How to take part?
To enter please fill in the form below and let us know in the comments field why you want to study English.
The competition will end on the 15th September 2021 and the winner will be contacted around mid-September. 
Terms & Conditions can be found here.
Good luck!