Malta has a unique climate with temperatures of up to 34° C in midsummer (July and August), during the time of the warm African Sirocco winds.

The lowest average daily temperature is 15° C in January. The highest precipitation has been measured from November to February, but rain is a rare occurrence in Malta during spring and summer.

The swimming season lasts from May to October.

| | | | | | | | | | | | | |
| --- | --- | --- | --- | --- | --- | --- | --- | --- | --- | --- | --- | --- |
|   | JAN | FEB | MAR | APR | MAY | JUN | JUL | AUG | SEP | OCT | NOV | DEC |
| Average Temperature | 13°C | 13°C | 14°C | 16°C | 20°C | 23°C | 27°C | 27°C | 25°C | 21°C | 17°C | 14°C |
| Average High Temperature | 16°C | 16°C | 18°C | 20°C | 24°C | 29°C | 32°C | 32°C | 28°C | 25°C | 21°C | 18°C |
| Average Low Temperature | 13°C | 13°C | 15°C | 17°C | 20°C | 24°C | 27°C | 28°C | 25°C | 22°C | 18°C | 15°C |
| Average Rainfall | 95 mm | 63 mm | 37 mm | 26 mm | 9 mm | 5 mm | 0 mm | 6 mm | 67 mm | 77 mm | 109 mm | 108 mm |
| Average Sea Temperature | 17°C | 16°C | 16°C | 17°C | 19°C | 22°C | 26°C | 27°C | 26°C | 24°C | 22°C | 19°C |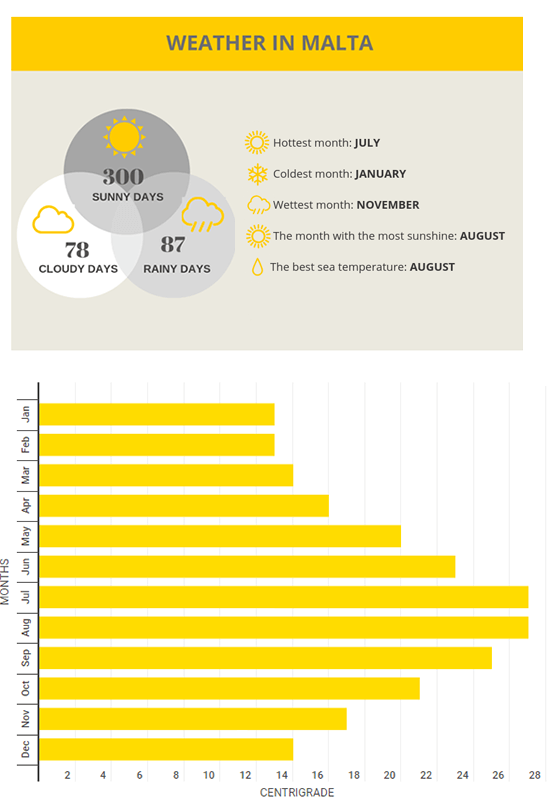 Malta has a Mediterranean climate. The summers are hot, sunny, and dry while the winter is warm but rainy and windy. Malta is one of the sunniest countries in Europe, with more than 300,000 hours of sunshine per year. Even in November, which is the rainiest month, it has 161 hours of sunshine, more than twice as many European cities.
The sea season (for swimming) in Malta lasts almost 6 months. You can enjoy the crystal clear waters of Malta from May to the end of October with divers taking advantage of the timid waters all year round.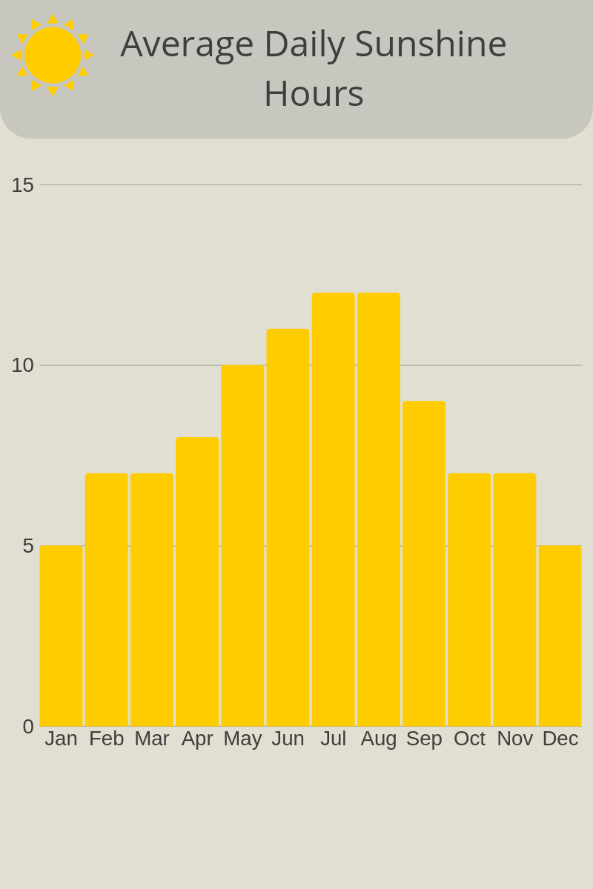 SUMMER
In Malta, the summers are quite sunny and warm. In the summer, almost no rain is seen. The sea temperature is also the highest in the summer months. That's why Malta is such a popular choice for beach holidays. Occasionally, temperatures can feel hotter than normal due to heat waves! Fortunately being a small island, a sea breeze is never too far away.
What to pack: If you're visiting Malta in the summer months you definitely need protection from the sun including suncream, sunglasses, and a hat. You will only need light clothes like t-shirts, shorts and summer dresses. Because of the hot weather we recommend choosing flip-flops instead of closed shoes. Last but not least, do not forget to bring your swimwear with you!
SPRING AND AUTUMN
Spring and autumn are the best times to experience Malta if you want to avoid crowds and high temperatures. Mostly the days are sunny but it is necessary to be prepared for unexpected rains and cloudy days. Since the sea temperature does not decrease much during these months, it is possible to enjoy the sea from the last months of spring to the middle of autumn. It should be noted that in the last days of autumn the weather can be quite windy and mild.
What to pack: Since the weather isn't too cold, you can take your short-sleeved t-shirts and shorts with you, but it's also a good idea to bring a few long-sleeved t-shirts, a light jacket or a hoodie. You can wear your sandals during these months, but do not forget to take your closed shoes with you. Especially if you plan to visit Malta after the first half of autumn, we recommend that you take your rain or windproof coat and umbrella with you.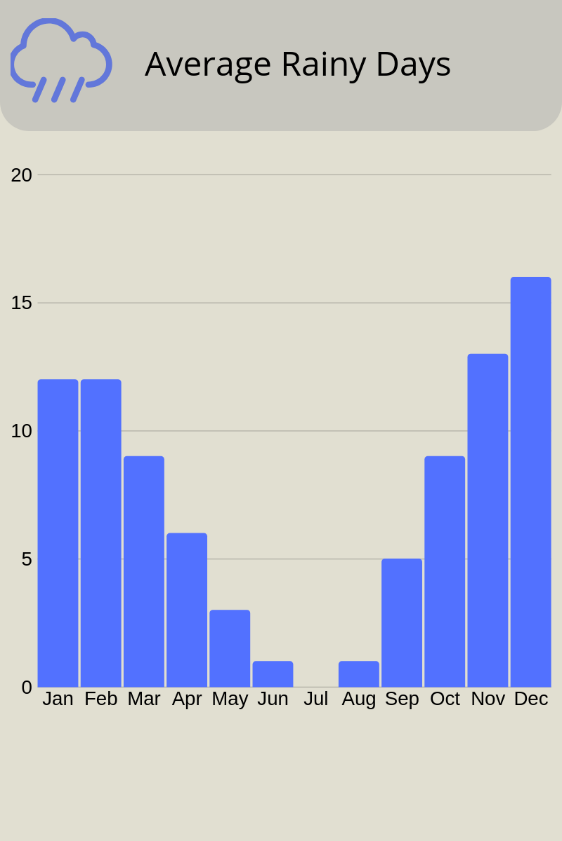 WINTER
Winter is the coldest time of the year. The weather can be sunny, cloudy or rainy at times. However, the winter months are the rainiest months. The average temperature is about 15 degrees however the wind can make it feel cooler. Swimming is not recommended at this time of year, but you can enjoy beach days on the island under the winter sun.
What to pack: During the winter months, the weather is quite rainy and windy. So, it may be a good idea to bring warm clothes with you. We also recommend that you take a windproof coat with you too. To keep you dry and warm, boots and trainers will be the best choice for this season.
If you're interested in coming to Malta to enjoy the amazing weather while learning English have a look at ourcourses and prices pages or get a free quick quotation from the top of the page.