Hotel Valentina ***
The Valentina will be closed from the 1st December 2018, until mid-April 2019. It will be undergoing refurbishment. The hotel pool will be unavailable from the 1st December 2018 till the first week of June 2019. Maltalingua has a selection of 3, 4 and 5-star hotels to choose from and prices can be given on request.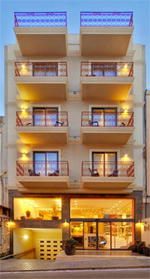 The Valentina hotel in Malta is located in the heart of St Julian's, one of the most popular cities in Malta, and just a few minutes away from the national casino, a sandy beach as well as Malta's famous clubs, pubs, and restaurants. The hotel itself is situated on a traffic-calmed street, which guarantees a pleasant stay in the immediate vicinity to the vibrant and popular districts of St Julian's.
All hotel rooms have air conditioning, a mini bar, telephone, and cable TV. A continental breakfast will be served at the breakfast buffet in the "breakfast area", and all hotel guests enjoy reduced prices in the Avenue restaurant. The check-in desk in the air-conditioned lobby is occupied 24 hours a day by hotel employees intent on fulfilling your wishes and offering you customer-oriented all-around service.
Room prices per person per day (in Euro)
DBL
SGL

BB

HB
BB
HB

01.04.2019 - 17.04.2019

63.00
93.00
114.00
144.00
18.04.2019 - 22.04.2019
72.00
102.00
132.00
162.00
23.04.2019 - 30.04.2019
63.00
93.00
114.00
144.00
01.05.2019 - 31.05.2019
69.00
99.00
132.00
162.00
01.06.2019 - 30.06.2019
72.00
102.00
138.00
168.00
01.07.2019 - 31.07.2019
84.00
114.00
150.00
180.00
01.08.2019 - 31.08.2019
96.00
126.00
168.00
198.00
01.09.2019 - 31.10.2019
87.00
117.00
150.00
180.00
DBL - Double Room
SGL - Single Room
BB - Bed and breakfast
HB - Breakfast and dinner
Please note that these rates are only available in combination with enrolment in a language course.
Please contact us about prices for children.
ECO TAX
The Maltese Government is introducing an Environmental Contribution Tax (ECO TAX) from 1st June 2016.
It applies to all local and foreign guests (including group leaders), who are 18 or over on the day of arrival, and who stay in any type of accommodation including; Apartments, Host families, Hotels, Hostels, Guesthouses, Farmhouses, Villas etc.
The tax is €0.50 per night with a maximum of €5 per stay – per person.
You will be advised on how your ECO TAX is paid when you make your booking.