Maltalingua is offering a brand-new language learning opportunity with its latest service: 'Stay with a Teacher.' Step away from the typical accommodation choices and immerse yourself in an exciting adventure of English language learning and exploration.
Immerse yourself completely in the world of English by living with one of our highly qualified English teachers. 'Stay with a Teacher' delivers an opportunity for bespoke, practical, and personalised learning. No more one-size-fits-all – your teacher will adapt to your unique needs and preferences.
Why Opt for 'Stay with a Teacher'?
Personalised Instruction: benefit from tailored support designed to match your skill level and learning style.
24/7 Language Exposure: immerse yourself in English around the clock, and speed up your English language learning journey.
Authentic Conversations: engage in natural conversations with your teacher, perfect for practicing for real-life communication.
Cultural Immersion: experience local culture firsthand as you live with a native English speaker.
Immediate Feedback: get instant feedback on your language use, helping you refine your skills rapidly.
Lifestyle Integration: embrace the English language in your daily routines, making learning an integral part of your time in Malta.
Confidence Boost: gradually build confidence in using English for various situations and contexts in and outside of the classroom.
Lasting Connections: forge a deep connection with your teacher, creating a supportive and enriching learning environment that lasts beyond your time at Maltalingua.
A 'Stay with a Teacher' Experience:
From sunrise to sunset, your learning never stops. Engage in interactive lessons, join activities to discover the local area, and then go home for more conversational practice with a teacher. This is more than just an accommodation choice – it's your pathway to English fluency.
How It Works:
Matching Approach: we'll pair you with a teacher who suits your goals.
Tailored to You: share your objectives and preferences for a personalized experience.
Embrace and Thrive: arrive, immerse yourself, and thrive in the English environment.
Meet theTeachers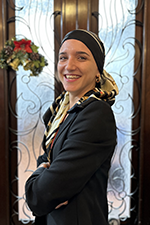 Ljubica Simonova
Hosting students is much like teaching - I love teaching and I love being a host, I love preparing food for other people and I know how most students feel when they come to our school, so I want to make the entire process easier and more enjoyable. Plus, it's a pleasurable experience for me too, as I get to meet people from all around the world, listen to their stories, and learn from them, which as this job taught me, is priceless.
I've only had positive experiences so far. Every student has been extremely polite and understanding, and all of them have been respectful of the apartment and me as a person, and as a teacher. I believe that it can be one of the best experiences a student can have. 
The apartment is just a couple of minutes away from Balluta Bay, which is in the heart of St. Julians, close to many five-star restaurants, clubs, and most importantly, our school.

Located in one of the traditionally designed Maltese buildings named Steeple View Mansions, the apartment is on the top floor. It is spacious, classically Maltese, and peaceful, 
Breakfast and dinner are provided by me for all adult students, and lunch for teenagers and children. The breakfast is mostly continental and the students can help themselves. I try to accommodate students' needs as much as I can. The apartment and the room where they are staying are cleaned once per week, and that includes changing the sheets and the towels. 
If I were a student in our school, I would choose this type of accommodation, as it elevates the entire learning experience for any student.
Read Ljubica's blog about 'Stay with a Teacher' here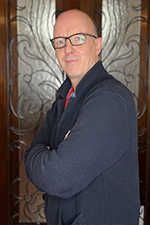 Andrew McHugh: CELTA

Welcoming students into my home is as fulfilling as being in the classroom. Just like I'm passionate about teaching, creating a warm and hospitable environment is something I truly enjoy. Preparing meals and understanding their journey is a personal touch that matters to me. 
On a personal note, hosting is a wonderful way to learn. Meeting people from different parts of the world, hearing their stories, and expanding my own horizons is incredibly rewarding.
My interactions with students have been nothing but positive. They've shown respect for my space and my roles as both host and teacher. The apartment I offer is a gem near Balluta Bay in St. Julians, It's a tranquil escape with a touch of Maltese character. I provide breakfast, dinner, and lunch, taking care of various dietary needs. Weekly cleaning ensures a comfortable space.
From a student's perspective, choosing this accommodation seamlessly enhances their learning journey.
What you said
"Thank you for a pleasant, relaxing stay at your place. I enjoyed the dinner conversations even with my terrible English :)) Thank you!" - Lubos Romanowski 
"I would like to thank you for a very nice stay at the apartment. I enjoyed it a lot, lots of things were great. It's very hard to choose which ones were the best!" - Michal
"I would like to thank you for the time we spent together. It was nice to meet you and to talk with you every evening. We have amazing memories of playing football with you on the playground. I hope we'll meet each other next year!" - Katarzyna
Ready for an Unforgettable 'Stay with a Teacher'?
Are you ready to begin your English learning journey? 'Stay with a Teacher' presents a one-of-a-kind, immersive English language learning experience. Increase your confidence, connect with new people, and unlock your language potential.
Get your free quote and start your language adventure with Maltalingua.