Educational Leave - only applicable in Germany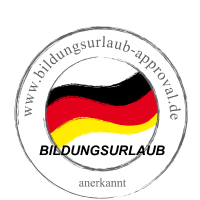 What is educational leave?
Educational leave refers to the legal entitlement of employees vis-à-vis employers to paid time off from work for 5 calendar days per year to attend recognised or deemed recognised events that serve political education and / or professional development, such as a language course. In some federal states it is permitted to combine two years' educational leave into a total stay of 10 days. The language course must either be recognised by the Ministry of Education itself in the respective Land or the Ministry of Education must accept recognition from another Land. There are no uniform regulations on whether educational leave can be taken and we ask you to enquire with your employer in good time whether you can take educational leave and to inform him or her of the planned dates as early as possible. In Baden-Württemberg, Bavaria, North Rhine-Westphalia, Saxony and Thuringia there are no laws on educational leave.
Which Maltalingua courses are recognised as Bildungsurlaub courses in Malta?
Maltalingua can offer you two registered Bildungsurlaub courses, the Intensive English Course and the Intensive Business English Course (on request). The Intensive English Course is currently officially recognised as an Bildungsurlaub course in Hamburg, Berlin, Lower Saxony, Rhineland-Palatinate, Schleswig-Holstein, Mecklenburg-Western Pomerania, Brandenburg, Bremen, Saarland and Hesse. Please note that special rules apply for Hesse, Saarland, Schleswig-Holstein, Mecklenburg-Western Pomerania and Lower Saxony.
For further information, please contact our German representatives hello@maltalingua.com or telephone (00356) 2016 1911 (Mon. - Fri. 08:30 - 17:30).