Maltalingua teachers are Native English level and come to us from all around the world. Our teaching faculty are required to hold an internationally recognised University of Cambridge CELTA (Certificate in Teaching English to Speakers of Other Languages) or DELTA (Diploma in Teaching English to Speakers of Other Languages) qualification (or equivalent). We focus on recruiting friendly, mature, well-educated, and energetic teachers who engage with students on a familiar and individual basis. Our teachers are paramount to the success of our students and are key to the successful provision of our curriculum.
We encourage individual teacher and student integration both inside and outside of the classroom and as such teachers are very much involved in day-to-day school activities and frequently accompany students on school social activities.
We believe that the success of any language school is highly dependent upon the strengths of its teachers.  The Maltalingua academic team is specifically trained to teach English as a Foreign Language and is required to incorporate our modern EFL teaching philosophy and to adapt lessons for our students.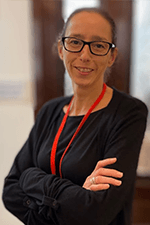 Rachael Young: CELTA
Hi, I'm Rachael and I'm from Scotland. I made the decision to retrain and move abroad and now I am a CELTA qualified teacher in Malta. I started with Maltalingua in June last year and haven't looked back. The school is almost like a family and we have a strong and supportive teaching team.
I really enjoy meeting our students and find myself learning from them as much as they learn English from me. We work hard but the reward comes from seeing how our students improve and develop.
I am happy I have chosen Malta and Maltalingua has chosen me, I am sure you will feel the same when you join us. When I'm not teaching I enjoy reading and love to cook.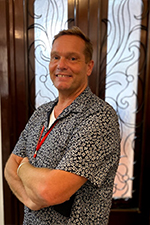 Paul Atkins: CELTA, DELTA, BSc (Hons) Ecology, MA in Applied Linguistics.
Hi, my name's Paul Atkins and I'm from Brighton in the UK. I've spent 30 years as a teacher, teacher trainer, and academic manager; I've worked in language schools, as a freelance consultant, and at a college in the UK.
A few years ago I decided to travel the world doing what I love best, teaching, and, well - here I am. My teaching? I believe strongly that good teaching can be recognised from its good results so I want my students to learn as much as possible.
I'm fascinated by how we learn, and I try to connect with my students to find what works best for them as individuals. I love grammar (who doesn't?), but spoken communication lies at the heart of language learning. So, whatever the level, my lessons involve a lot of speaking and fluency practice and - I hope - enjoyment.
I have the DELTA, a first-class BSc, and a Masters in Applied Linguistics. Outside work I'm a traveller, scuba diver, reader, and I love nature and the countryside. I'm a big fan of my hometown football team, Brighton & Hove Albion, for my sins.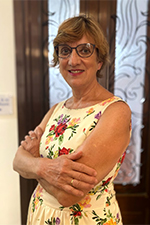 Gillian Pritchett: CELTA

Hi, I'm Gillian. I was born and raised in the UK but I've traveled extensively, lived in France and Germany, and for 12 years in Canada.
I've been a Malta fan since my first visit many years ago and love spending extended chunks of time here. Working for Maltalingua is a true joy thanks to supportive colleagues and motivated students.
I'm CELTA qualified and very experienced teaching face to face and in more recent times, online. My focus is business English as my international business career means I can really help students use their English in as near to real-life contexts as possible.  My specialist areas are finance, strategy, marketing, negotiations, and HRM.
I studied French and Geography at university, then qualified as an accountant. I also have an MA in European Industrial relations and HR and a post-grad diploma in Marketing Management.
I enjoy discovering other countries, learning languages, reading and sports especially running and cycling. And.. I'm a qualified gong practitioner...."
Chantelle Ross: TEFL

Hello! I'm Chantelle and I'm a TEFL qualified teacher from Dundee, Scotland.
Moving to Malta and teaching at Maltalingua is the best decision I could have ever made. The staff are so friendly and caring, I couldn't ask for a better team!
I love meeting new people and learning about the different cultures from the international students who come to study at Maltalingua. Teaching is my passion and with my BA (Hons) in Acting and Performance, I always find ways to make the lessons engaging, light-hearted and fun.
I like to build a good rapport with the students as mutual respect is very important in a classroom environment. I am a very supportive teacher as my aim is to get my students to speak, write and read comfortably and confidently in English.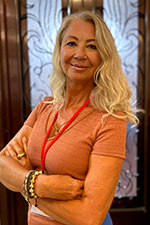 Jo Montebello: CertTESOL

My name is Jo Montebello and I am a Cert Tesol accredited teacher from Australia.
I specialise in teaching general English, grammar, speaking fluency, business English and IELTS preparation.
I have 15 years teaching experience with a focus on training, personal development and teaching English as a foreign language to students from all over the world.
My aim is to create a friendly and relaxed teaching environment so students feel comfortable and confident while learning.