Maltalingua teachers are Native English level and come to us from all around the world. Our teaching faculty are required to hold an internationally recognised University of Cambridge CELTA (Certificate in Teaching English to Speakers of Other Languages) or DELTA (Diploma in Teaching English to Speakers of Other Languages) qualification (or equivalent). We focus on recruiting friendly, mature, well-educated, and energetic teachers who engage with students on a familiar and individual basis. Our teachers are paramount to the success of our students and are key to the successful provision of our curriculum.
We encourage individual teacher and student integration both inside and outside of the classroom and as such teachers are very much involved in day-to-day school activities and frequently accompany students on school social activities.
We believe that the success of any language school is highly dependent upon the strengths of its teachers.  The Maltalingua academic team is specifically trained to teach English as a Foreign Language and is required to incorporate our modern EFL teaching philosophy and to adapt lessons for our students.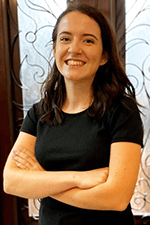 Carine Wight: CELTA, BA (Hons) in History of Art and French
Hello! I'm Carine and I'm a CELTA qualified teacher at Maltalingua. I am from Scotland

There is a great atmosphere at the school and all the staff is incredibly motivated and supportive.

I'm from Glasgow, a rainy but exciting city in Scotland with lots of culture and creativity! My past teaching experience is mainly with young learners.

I love teaching children and young people because the classes are full of energy and every day is very different! Additionally, I have an undergraduate degree in Art History with French from the University of Glasgow.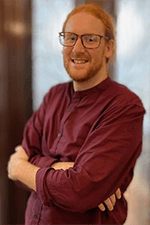 Dudley Baker: CELTA, BA (Hons) in Philosophy and Media Studies
Greetings! I'm Dudley and I get great satisfaction from learning about different people and cultures from around the world.

Teaching, for me, is about adventure and I consider every day to be a new one. I get to learn a lot from the people I meet and I believe everybody has a story to tell.

Before coming to Malta, I was teaching in Java, Indonesia. I spent many years living there and it was an unforgettable experience. But it was time to return to somewhere near my homeland, the UK. I couldn't have hoped for a warmer, more welcoming place to express myself as a teacher, Maltalingua is a truly unique place to learn and teach.

In class, I always encourage open discussion and like to maintain an atmosphere of inclusion – everyone has an opinion! I have a strong interest in philosophy so I love to explore thought experiments and investigate important issues. I'm CELTA qualified and have a BA (Hons) in Philosophy. In my free time, I like to make weird and wonderful music with my keyboards, I love creativity!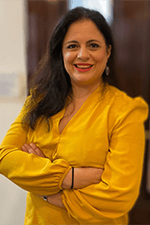 Maria Thuli: TEFL, TEFL, LRSM, LTCL
Hello everyone! My name is Maria and I am a teacher here at Maltalingua where I started teaching in October 2016.
I have been teaching English as a foreign language since as far back as 1998, here in Malta as well as in the German-speaking part of Switzerland where I lived and taught English to students of all age groups and levels, besides piano performance (which is my second profession) for 13 years.
Teaching is my passion! I find it great to see students enjoying learning and at the same time continuously progressing their skills.
Being a teacher at Maltalingua has been a fantastic experience and I really appreciate the friendly and professional team here and the fact that our students, who are from all over the world, are really keen to learn and thus an actual pleasure to teach! Look forward to meeting you here at Maltalingua!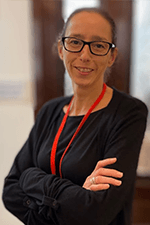 Rachael Young: CELTA
Hi, I'm Rachael and I'm from Scotland. I made the decision to retrain and move abroad and now I am a CELTA qualified teacher in Malta. I started with Maltalingua in June last year and haven't looked back. The school is almost like a family and we have a strong and supportive teaching team.
I really enjoy meeting our students and find myself learning from them as much as they learn English from me. We work hard but the reward comes from seeing how our students improve and develop.
I am happy I have chosen Malta and Maltalingua has chosen me, I am sure you will feel the same when you join us. When I'm not teaching I enjoy reading and love to cook.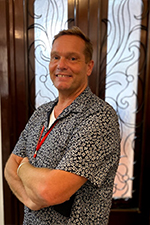 Paul Atkins: CELTA, DELTA, BSc (Hons) Ecology, MA in Applied Linguistics.
Hi, my name's Paul Atkins and I'm from Brighton in the UK. I've spent 30 years as a teacher, teacher trainer, and academic manager; I've worked in language schools, as a freelance consultant, and at a college in the UK.
A few years ago I decided to travel the world doing what I love best, teaching, and, well - here I am. My teaching? I believe strongly that good teaching can be recognised from its good results so I want my students to learn as much as possible.
I'm fascinated by how we learn, and I try to connect with my students to find what works best for them as individuals. I love grammar (who doesn't?), but spoken communication lies at the heart of language learning. So, whatever the level, my lessons involve a lot of speaking and fluency practice and - I hope - enjoyment.
I have the DELTA, a first-class BSc, and a Masters in Applied Linguistics. Outside work I'm a traveller, scuba diver, reader, and I love nature and the countryside. I'm a big fan of my hometown football team, Brighton & Hove Albion, for my sins.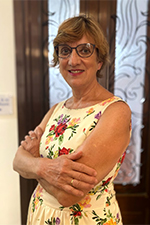 Gillian Pritchett: CELTA

Hi, I'm Gillian. I was born and raised in the UK but I've traveled extensively, lived in France and Germany, and for 12 years in Canada.
I've been a Malta fan since my first visit many years ago and love spending extended chunks of time here. Working for Maltalingua is a true joy thanks to supportive colleagues and motivated students.
I'm CELTA qualified and very experienced teaching face to face and in more recent times, online. My focus is business English as my international business career means I can really help students use their English in as near to real-life contexts as possible.  My specialist areas are finance, strategy, marketing, negotiations, and HRM.
I studied French and Geography at university, then qualified as an accountant. I also have an MA in European Industrial relations and HR and a post-grad diploma in Marketing Management.
I enjoy discovering other countries, learning languages, reading and sports especially running and cycling. And.. I'm a qualified gong practitioner...."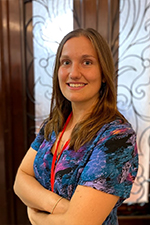 Kat Grimoldby: CELTA, BA (Hons) in Contemporary Applied Arts

Hello there! My name is Kat, and I am from beautiful Devon in the South West of England.
My teaching adventure began in Budapest in 2017 and has brought me to Malta via Java, Indonesia. I feel very lucky to have had these experiences: there is no other job like ours!
My classes are relaxed yet engaging. We use interesting contexts to help you elevate your English in a unique and creative way. I tailor my classes to suit the needs of my students.
In my spare time, I relentlessly pursue my creativity- sketching, designing, and making. I also love to bake and read but you'll just as easily find me on the ocean floor or hiking through the countryside. 
Chantelle Ross: TEFL

Hello! I'm Chantelle and I'm a TEFL qualified teacher from Dundee, Scotland.
Moving to Malta and teaching at Maltalingua is the best decision I could have ever made. The staff are so friendly and caring, I couldn't ask for a better team!
I love meeting new people and learning about the different cultures from the international students who come to study at Maltalingua. Teaching is my passion and with my BA (Hons) in Acting and Performance, I always find ways to make the lessons engaging, light-hearted and fun.
I like to build a good rapport with the students as mutual respect is very important in a classroom environment. I am a very supportive teacher as my aim is to get my students to speak, write and read comfortably and confidently in English.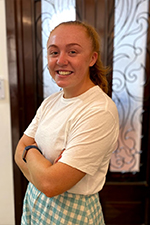 Amber McManus: TEFL, BSc in Biology and Biopharmaceutical Science

Hi, I'm Amber, a TEFL qualified teacher from Ireland and I have BSc in Biology and Biopharmaceutical Science.
I started working with Maltalingua in May this year and it has been an incredible journey working alongside a supportive and friendly team.  I am passionate about teaching English and helping students reach their goals.
I believe, it is essential to create a relaxed classroom environment where every student feels comfortable. I love meeting new people and enjoy learning about different cultures which is made possible in our schools' multicultural community. 
Looking forward to meeting you here in Maltalingua!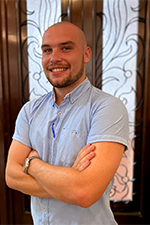 Shane Murphy: TEFL

"Hi folks! My name is Shane, and I'm a highly motivated, TEFL certificated, ESL instructor from Ireland. 
Teaching English as a Foreign Language has long been a goal of mine, even through the duration of my undergraduate international degree in Sociology and Social Policy. Although relatively new to Maltalingua, I feel like I've been here all my life!
This is a feeling that I believe is shared by many of the students I've taught and continue to teach. I truly believe that Maltalingua provides learners with the perfect study-life balance and could be the perfect place to start, continue or indeed, re-start your English learning career.
The multicultural nature of the school provides a space for development, education, joy and memory creation between staff and students alike.  I look forward to meeting with you in the near future if you choose to study at Maltalingua!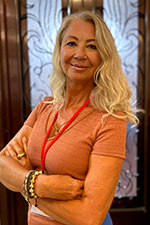 Jo Montebello: CertTESOL

My name is Jo Montebello and I am a Cert Tesol accredited teacher from Australia.
I specialise in teaching general English, grammar, speaking fluency, business English and IELTS preparation.
I have 15 years teaching experience with a focus on training, personal development and teaching English as a foreign language to students from all over the world.
My aim is to create a friendly and relaxed teaching environment so students feel comfortable and confident while learning.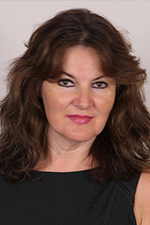 Anne Vella: CertTesol

I'm Anne and I have been teaching the English Language, intermittently for the past thirty-five years. I particularly love teaching English to foreign students as I enjoy working in a multicultural environment and seeing my students progress and also grow in confidence. In fact, teaching EFL is definitely one of my passions and something I find immensely rewarding.
Having worked at several EFL schools locally, I can safely say that Maltalingua is a truly unique language school and can offer you a very special experience. You will find that not only the teachers but all members of staff are extremely supportive. Feeling at home and being able to relax in a family-type atmosphere will greatly facilitate the speed at which you learn.
Apart from being a qualified teacher (Cert. Tesol, U.K) with additional training in teaching Business English, I am a university graduate in Sociology and have studied Special Education at postgraduate level.