Maltalingua teachers are Native English level and come to us from all around the world. Our teaching faculty are required to hold an internationally recognised University of Cambridge CELTA (Certificate in Teaching English to Speakers of Other Languages) or DELTA (Diploma in Teaching English to Speakers of Other Languages) qualification (or equivalent). We focus on recruiting friendly, mature, well-educated, and energetic teachers who engage with students on a familiar and individual basis. Our teachers are paramount to the success of our students and are key to the successful provision of our curriculum.
We encourage individual teacher and student integration both inside and outside of the classroom and as such teachers are very much involved in day-to-day school activities and frequently accompany students on school social activities.
We believe that the success of any language school is highly dependent upon the strengths of its teachers.  The Maltalingua academic team is specifically trained to teach English as a Foreign Language and is required to incorporate our modern EFL teaching philosophy and to adapt lessons for our students.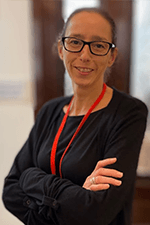 Rachael Young: CELTA
Hi, I'm Rachael and I'm from Scotland. I made the decision to retrain and move abroad and now I am a CELTA qualified teacher in Malta. I started with Maltalingua in June 2017 and haven't looked back. The school is almost like a family and we have a strong and supportive teaching team.
I really enjoy meeting our students and find myself learning from them as much as they learn English from me.

We work hard but the reward comes from seeing how our students improve and develop.

I am happy I have chosen Malta and Maltalingua has chosen me, I am sure you will feel the same when you join us.

When I'm not teaching I enjoy reading and love to cook.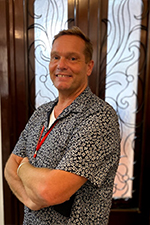 Paul Atkins: CELTA, DELTA, BSc (Hons) Ecology, MA in Applied Linguistics.
Hi, my name's Paul Atkins and I'm from Brighton in the UK. I've spent 30 years as a teacher, teacher trainer, and academic manager; I've worked in language schools, as a freelance consultant, and at a college in the UK.
A few years ago I decided to travel the world doing what I love best, teaching, and, well - here I am. My teaching? I believe strongly that good teaching can be recognised from its good results so I want my students to learn as much as possible.
I'm fascinated by how we learn, and I try to connect with my students to find what works best for them as individuals. I love grammar (who doesn't?), but spoken communication lies at the heart of language learning. So, whatever the level, my lessons involve a lot of speaking and fluency practice and - I hope - enjoyment.
I have the DELTA, a first-class BSc, and a Masters in Applied Linguistics. Outside work I'm a traveller, scuba diver, reader, and I love nature and the countryside. I'm a big fan of my hometown football team, Brighton & Hove Albion, for my sins.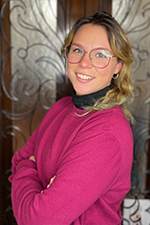 Elisa Missiagia: CELTA
"Hi everyone! Let me introduce myself. My name is Elisa :)

After my bachelor's degree in Translation and my tour leader qualification, I decided to come back to study in order to follow one of my biggest passions: TEACHING.

I successfully obtained my CELTA qualification and I am currently based in Malta. I do believe that learning English is suitable for everyone. It is just a matter of looking for what suits you the most.

That is why I love experimenting with new methods and techniques during my lessons. The only keyword is HAVING FUN, and I promise that it is possible!

Maltalingua gives me a chance to delve into this approach expressing my creativity. The atmosphere is so friendly that you feel at home! Both for the students and the teachers there is the possibility to improve as people and professionals. Welcome on board!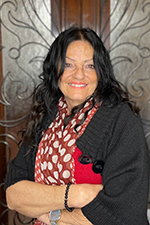 Giselle Genovese: TEFL
My friends often refer to me as the fun-loving and bubbly Giselle, full of energy and positive vibes and I suppose they are not wrong in thinking so.

If I were asked to choose the animal I wish to be, I would definitely love to be a bird so I can fly freely and admire nature's beauty. Being amid nature, I feel peace and serenity within me, away from the hustle and bustle of the world we live in.

My passions are swimming, walking, reading and last, but surely not least, travelling. I love to walk alone so I can think with a clear mind and focus on whatever I don't normally have time for. I don't see myself doing other jobs other than teaching because students give me the force and the motivation that makes me who I am.

I am forever grateful to the hundreds of students that have crossed my path in my teaching career so far because I have learned so many different and interesting cultures and I hope to continue doing that till I have the energy for it. I have recently joined Maltalingua and cannot be happier because I feel I fit perfectly in such an environment….the teachers, (my colleagues) are lovely to work with and I feel very much at home here.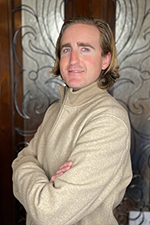 Barry Moloney: CELTA
Hello. My name is Barry and I have been with Maltalingua since September 2021.

I first visited Malta in 2018 for a holiday and I decided there and then that I would one day move here long-term, and here I am now.

Even back in 2018, I had my eye on Maltalingua - there just seemed to be something very appealing and cool about the school based on what I had seen - and now I can say without a doubt that my first impressions were right.

I firmly believe that learning is and should be fun, and I try to bring energy and some humour to the classroom. My favourite part of the job is seeing students' progress.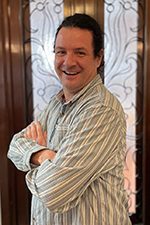 Benjamin Cook: TEFL

Hi, my name is Ben and I am a TEFL qualified teacher from Barnsley in the UK.

I've spent the last 10 years working in several different countries as a teacher and academic manager.

I really enjoy meeting and learning about new people so I am very happy to work with Maltalingua where I have the chance to meet so many people from numerous different countries.

My teaching style is student-focused, relaxed, and friendly. I want and hope they always have a smile on their faces too. When not teaching I am a big fan of learning new things, trying new experiences, and exploring new places.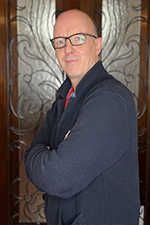 Andrew McHugh: CELTA
"Hi, I'm Andrew, from Dublin; Welcome to Maltalingua. In pursuit of a more relaxed lifestyle, good food/wine, and an abundance of outdoor activities, namely sailing, I relocated to Malta in 2021.

Passionate about education, training, and the mantra of lifelong learning, I have been teaching English since 2014. My EFL teaching experience includes the delivery of General, Business English, and EAP/ ESP.

Whether you are learning English for pleasure/exam preparation, my goal as an English teacher is to help you develop/perfect your English language skills collectively or individually. I encourage learner autonomy, deliver practical, learner-centered, interactive, and exciting lessons using various methodologies and resources.

Malta is an idyllic Mediterranean location to start or continue your English language journey. I hope to see you soon!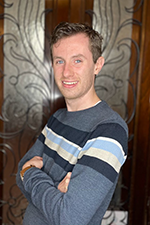 Sam O'Brien: CertTesol
Hi! My name is Sam, I come from London and I have been a teacher for about 7 years.

I have worked in Mexico, China, Portugal, Slovakia, Italy, and also for Maltalingua during that time. I very much enjoy teaching because I get a real sense of achievement when I teach someone something new and useful. Teaching poses lots of challenges, to be sure, but it is also an extremely rewarding profession.

Outside of teaching, my main passion is football. I am a keen supporter of Manchester United, but I enjoy watching every team and I like to keep updated with players, leagues, organisations, etc. I am also an occasional quizmaster and I do contribute to a quiz website on a fairly regular basis. So, yes, football and quizzing- a typical Brit!

I previously worked for Maltalingua in 2020 and I decided to come back because the school has a really supportive and caring environment, for students and teachers alike. I look forward to working with you and I hope that you enjoy your stay with us!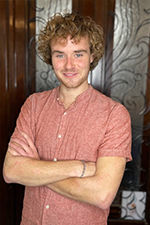 Daniel Browne: TEFL
Hi. My name is Daniel and I am a TEFL qualified teacher from Dublin, Ireland. Coming to Malta was one of the best decisions of my life.

I've made so many friends here and learned so much about myself, and life in general. I feel that I am quite a patient teacher. from the age of 11, my family was a host family in Ireland for students my own age to come over to live and practice English in my home.

They came from all over Europe like Spain, Italy, France, Germany and more. This has given me the patience and understanding to talk to English students and teach them how to read, write, and speak confidently.

I love meeting new people, and am so happy with meeting all the lovely teachers and staff at Maltalingua!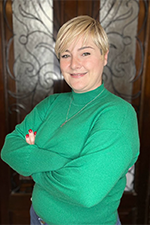 Michelle Caruana Montebello: TEFL
"Hi, there! My name is Michelle Caruana Montebello and I am from Malta. From a very young age, languages and literature have always been a passion of mine and so I've decided to make it my career.

I first started teaching English as a foreign language when I was at University after having finished my TEFL course. Since then I've been involved in the education sector in various roles; primarily as a teacher, but also as a project coordinator and administrator.

Teaching is my passion as I love passing on knowledge and giving students the skills necessary to achieve their goals. I have worked in a number of language schools as well as in an international school. I really like the multicultural setting that such institutions offer as students not only learn academics but also global skills, which is another area of interest of mine.

When I am not teaching, I like spending my time reading, especially Agatha Christie - there is nothing better than a timeless classic! I also like traveling and learning about new cultures. I look forward to welcoming you to my class where I strive to create a fun, engaging atmosphere where all students can make the most of their learning experience."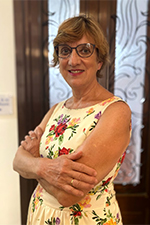 Gillian Pritchett: CELTA

Hi, I'm Gillian. I was born and raised in the UK but I've traveled extensively, lived in France and Germany, and for 12 years in Canada.
I've been a Malta fan since my first visit many years ago and love spending extended chunks of time here. Working for Maltalingua is a true joy thanks to supportive colleagues and motivated students.
I'm CELTA qualified and very experienced teaching face to face and in more recent times, online. My focus is business English as my international business career means I can really help students use their English in as near to real-life contexts as possible.  My specialist areas are finance, strategy, marketing, negotiations, and HRM.
I studied French and Geography at university, then qualified as an accountant. I also have an MA in European Industrial relations and HR and a post-grad diploma in Marketing Management.
I enjoy discovering other countries, learning languages, reading and sports especially running and cycling. And.. I'm a qualified gong practitioner...."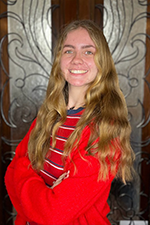 Chantelle Ross: TEFL

Hello! I'm Chantelle and I'm a TEFL qualified teacher from Dundee, Scotland.
Moving to Malta and teaching at Maltalingua is the best decision I could have ever made. The staff are so friendly and caring, I couldn't ask for a better team!
I love meeting new people and learning about the different cultures from the international students who come to study at Maltalingua. Teaching is my passion and with my BA (Hons) in Acting and Performance, I always find ways to make the lessons engaging, light-hearted and fun.
I like to build a good rapport with the students as mutual respect is very important in a classroom environment. I am a very supportive teacher as my aim is to get my students to speak, write and read comfortably and confidently in English.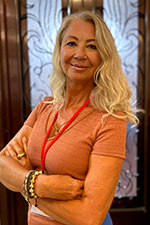 Jo Montebello: CertTESOL

My name is Jo Montebello and I am a Cert Tesol accredited teacher from Australia.
I specialise in teaching general English, grammar, speaking fluency, business English and IELTS preparation.
I have 15 years of teaching experience with a focus on training, personal development, and teaching English as a foreign language to students from all over the world.
My aim is to create a friendly and relaxed teaching environment so students feel comfortable and confident while learning.