Maltalingua has its own Beach Lido located just a 2-minute walk from the school and is very accessible for students. 

The perfect way to spend your afternoon, cool down by the pool, relax by the sea, or swim in the crystal clear waters. Our Beach Lido is open all year round and in winter it is heated. Over 33 meters long and 1.9 meters deep, it is perfect if you are looking for a good workout or just to relax and dip your toes into the water.

The Maltalingua Lido also has its own fully-equipped fitness center, changing rooms, and showers are also available on site.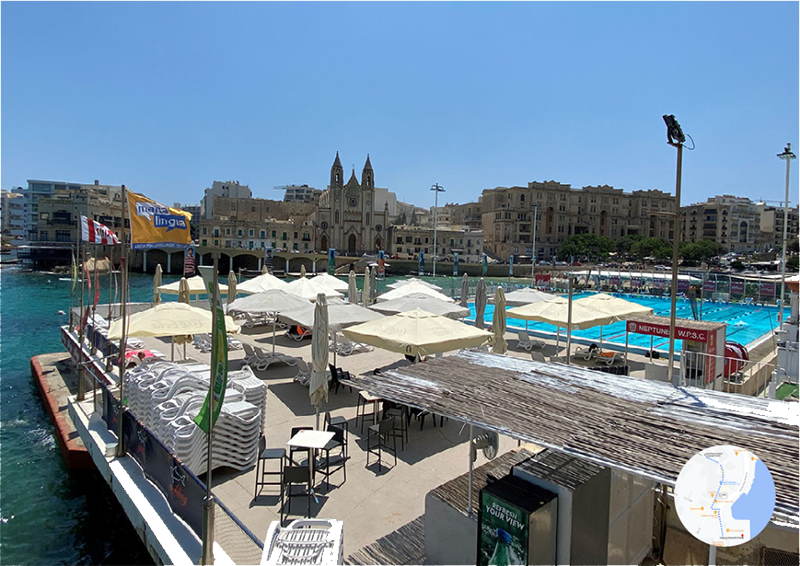 A PADI 5-star certified dive center operates from the club for those who like or want to try diving.

Feeling hungry? Enjoy the restaurant and bar serving a wide variety of snacks and dishes at reasonable prices. The restaurant is open every day for lunch and dinner. The menu is varied and offers a selection of food such as meat, fresh fish, pasta, salads, and a wide selection of drinks from the bar and cocktail lounge.
There are sunbeds around the pool and direct access to the sea for those who prefer a dip in the clear Mediterranean Sea.
This swimming pool has a long and beautiful history behind it, dating back to 1929, and home to the Neptunes Waterpolo team, who very quickly became known locally because of its numerous victories and which still exists to this day.