Hotel Alexandra ***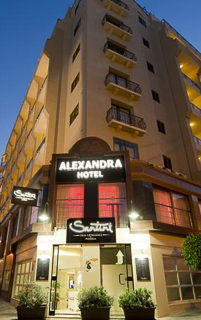 Situated in the centre of St Julian's, the Alexandra Hotel is a great option for students who want a range of entertainment options nearby. Within a short walk of the hotel, you can find restaurants, bars, discotheques, sandy beach, shopping, casinos, cinema, bowling centre and more.
The family-run hotel offers friendly personal service and has 145 guest rooms, all with air-conditioning and TV. On the roof, you will find a swimming pool with views of the Mediterranean Sea. The hotel also features a relaxing indoor spa with pool, jacuzzi, and sauna.
In the air-conditioned lobby, guests can enjoy free WiFi and 24-hour customer-orientated service from the front desk staff who are focussed on making your stay as enjoyable as possible.
The prices listed are for the "Standard Room" type. Prices for other room types are available on request.
Room prices per person per day (in Euro)
DBL
SGL

BB

HB
BB
HB
04.01.2019 - 28.02.2019
21.00
42.00
41.00
62.00
01.03.2019 - 31.03.2019
27.00
48.00
52.00
73.00
01.04.2019 - 18.04.2019
41.00
62.00
80.00
101.00
19.04.2019 - 22.04.2019
55.00
76.00
94.00
115.00
23.04.2019 - 30.04.2019
38.00
57.00
74.00
94.00
DBL - Double Room
SGL - Single Room
BB - Bed and breakfast
HB - Breakfast and dinner
Please note that these rates are only available in combination with enrolment in a language course.
Please contact us about prices for children.
ECO TAX
The Maltese Government is introducing an Environmental Contribution Tax (ECO TAX) from 1st June 2016.
It applies to all local and foreign guests (including group leaders), who are 18 or over on the day of arrival, and who stay in any type of accommodation including; Apartments, Host families, Hotels, Hostels, Guesthouses, Farmhouses, Villas etc.
The tax is €0.50 per night with a maximum of €5 per stay – per person.
You will be advised on how your ECO TAX is paid when you make your booking.