EFL teaching jobs Malta - customer support and career opportunities.
Maltalingua is on the lookout for talented, motivated team players that seek a position within an organisation that focuses on the bigger picture - it's our people that make us special.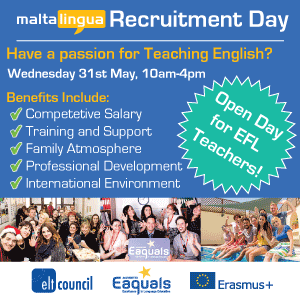 Maltalingua Recruitment Day - 31 May 2017 10am to 4pm
Come visit us and have look around our school! We will be giving presentations throughtout the day where candidates will be able to ask questions and complete the first stage of the application process. Please bring your CV and EFL qualification. Refreshments available.
Can't make it to the open day?
We'd still love to hear from you!
Send CVs to: dos[@]maltalingua.com (remove [ ])
Or call Katrin Risiott on 2742 7570 for more information.
EFL Teachers - Teaching English Positions in Malta
Full and part-time applicants should either hold a TEFL, CELTA or DELTA qualification (or equivalent). We are keen to employ friendly, outgoing teachers who are motivated, innovative, organised and able to work as a team. We focus on team building with in-house teacher development. Remuneration is competitive. Applications should be sent with cover letter to Katrin Risiott (Director of Studies) at DOS[@]maltalingua.com (remove [ ])
Group Leaders / Animateur
Over the summer months Maltalingua require enthusiastic and outgoing group leaders and animateurs to look after the wellbeing of our junior guests. The positions are ideally suited to those seeking work experience within the educational and travel sector. Applicants must be over 18 years of age, fluent in English, and able to work flexible hours. Although we are looking for outgoing personalities first and foremost we require responsible applicants who we can reply upon. Only serious applicants need apply. If you feel you are the right person to join our international team please send your CV with cover letter to Sean Bamber s.bamber[@]maltalingua.com (remove [ ])
Host Families
Maltalingua is looking to provide our adult students with a home away from home. We are looking for families who are caring and are more than willing to make our students feel welcome. Accommodation is a very important part of the service we provide and we hope all our students leave Malta with an around positive impression. Hosts must be within a 15 min walk from the school, which is located near the City of London Pub just off Balluta bay. Rates vary accordingly. Please send applications to: enquiries[@]maltalingua.com (remove [ ]) or call us on (00356) 2742 7570.